Junior sailors and windsurfers who are keen to develop their racing skills are invited to apply for this winter's 2022-2023 RYA North Regional Training Groups.
The deadline for applications is midnight on Sunday 11 September and those selected will be able to access six weekends of on-the-water coaching at venues around the region.
The programme provides RYA pathway class-specific training, with Regional Training Groups (RTGs) available for Optimist, Topper, RS Feva and ILCA 4 sailors and Bic Techno windsurfers. 
RTGs offer inclusive and accessible training delivered by expert RYA coaches to help young sailors improve their skills and inspire them towards a lifetime of participation in the sport.
RYA North East Regional Development Officer Sam Usher said: "If you're an aspiring junior, come and meet like-minded young people from across the North region and let our coaches help to improve your sailing or windsurfing. The RTG's provide a great framework for juniors to grow skills, experience and confidence while being guided by our team of coaches."
Benefits
Among those hoping to take part in this winter's RTGs will be Optimist sailor Toby Waggett, aged 12, of Teesdale Sailing & Watersports Club, who has enjoyed competing over summer at the French, British and Irish national championships and will be applying for his third year.
Mum Deborah said: "Toby has loved every minute of the RTGs. Not only has he benefitted from sailing at new locations he has discovered different training approaches. His confidence has grown not just in his sailing but socially, he has certainly made some lifelong pals! The RTGs have given him the confidence to sail anywhere."
Windsurfing brothers Han and Tian Zhang have likewise loved being a part of the RTG programme and have applied again for this winter. Han, aged 15, said: "All the coaches were brilliant. I managed to progress from 4.5 to 7.8 sail size with the RTG last year." And Tian, aged 12, added: "It was really helpful to have so many different opinions and tips from all the coaches. I found that I could choose what worked best and I have improved so much thanks to the RTG."
Dad Yi explains: "RTG coaching has given Han and Tian an opportunity to progress their windsurfing skills. Not only they are having a great time now as advanced windsurfers, but also they have forged great friendships with other like-minded youngsters, which I hope can last a lifetime. We have applied again for this year and the boys and I are excited to travel to the new venues and meet new and old friends soon."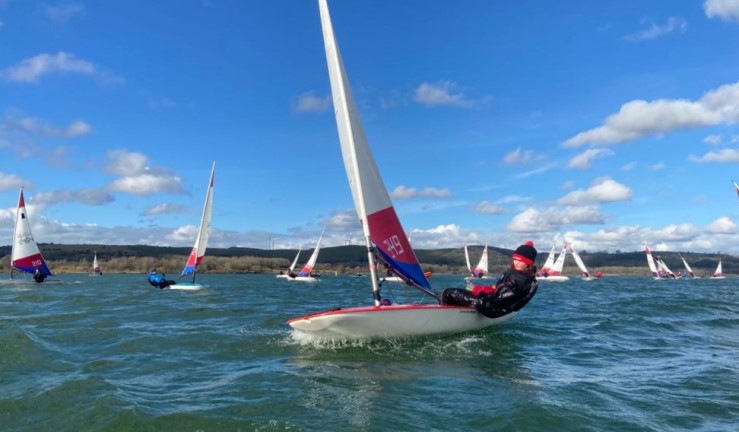 Eligibility
Sailors should ideally have attended the BYS Regional Junior Championships at Ullswater Yacht Club in June 2022, or the BYS Windsurfing Regional Junior Championships at Glossop SC. There are also indicator events for sailors, which for the RYA North East and RYA North West regions include:
Optimists: Open Meeting/Coaching, Derwent Reservoir SC, 10-11 September 2022
Toppers: Open Training, 3 September at Pennine SC; Open Meeting, 10 September, Scaling Dam SC
RS Fevas: Open Training, 11 September, Pennine SC
ILCA 4: Class Qualifier 10-11 September 2022, WPNSA; UKLA Open Training at Bartley SC, 3-4 September 2022
There are places for up to 18 boats/sailors in each RTG depending on the number of applicants and their ability and usually meeting the following age criteria on 31st December 2022: Optimist, Topper, RS Feva sailors under 15 years of age; ILCA 4  under 15 years of age, girls under 16 years of age, and three girls under 17 years of age; Bic Techno under 16 years.
Sailors marginally outside the age criteria should still consider applying as they may be offered a discretionary place, for example if they are newcomers to the sport or class, or if their inclusion would help to improve the overall standard.
Next steps
Find more information about RTGs here and for details about applying visit the BYS Regional Training Group Guidance Policy.
To check your region, click here, and for any questions about applying or eligibility for the North RTGs, please feel free to get in touch with Regional Performance Manager Chris Blackburn.
Remember, the closing date is midnight on Sunday 11th September 2022: click here to apply!