Voting is now open for the 2023 RYA and Sailing Today with Yachts & Yachting Club of the Year Award, supported by Gallagher, including for our Midlands regional finalist.
The awards recognise the outstanding achievement of sailing clubs across the UK and Rudyard Lake Sailing Club in Staffordshire is one of 12 shortlisted by the RYA Awards Panel for 2023. 
The overall winner will be announced during the RYA Dinghy & Watersports Show at Farnborough International Exhibition Centre on Saturday, 25 February 2023.
In the meantime, the public is invited to read more about each finalist and vote by Monday 23 January 2023 for the club which they want to win the coveted overall title.
Janey Hill, Commodore of Rudyard Lake Sailing Club, said: "It's wonderful that we're a finalist and I'm so proud of the club and to be nominated for this award. We are a volunteer-run club and winning Club of the Year would be a fantastic recognition for all their hard work."
Record membership
Rudyard Lake SC is growing fast thanks to its modern clubhouse and range of activities, including RYA dinghy and powerboat courses, competitive dinghy racing, informal training, junior and women's sessions, Stand Up Paddleboarding and model yachting.
The club currently has the largest membership in its history with 473 members and the last year alone seeing a 20% increase. This record figure has been achieved by the club diversifying its offer, investing in facilities, and adapting activities to meet members' needs.
The development of a public café in the clubhouse has also had a direct and positive impact on supporting the club to grow its membership.
As Janey explains: "We've embraced paddleboarders and have a really vibrant and growing radio-controlled model yachters group. The Galley Café meanwhile has encouraged people to come along and use the clubhouse, which is now warm and welcoming throughout the week, with a good team who do a great job of promoting the club.
"We've doubled our membership: we had just over 200 members before Covid and now have well over 400 members. Our aim is to be welcoming, friendly and inclusive – and the clubhouse itself with its balcony overlooking the water has a real wow factor!"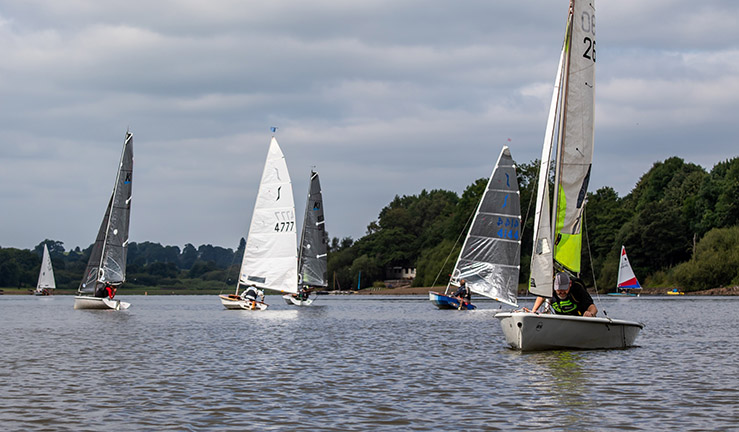 Success factors
The club has a variety of activities which have enabled it to reach out and inspire both existing and new members, resulting in its nomination for the 2023 Club of the Year award:
SUP Membership: The club invited experienced SUPers to join in 2020 and expanded SUP membership for newcomers to the sport in 2021, establishing a Club Training team of SUP members and investing in 6 club boards available for members. The club now has 150 SUP members, with a number of these also interested in learning to sail.
Model Boating Group: Set up by members and increasingly popular, particularly with older members who may find it difficult to continue sailing, it has also encouraged new members joining specifically for this activity.
Online training: Interactive sessions over winter for adults and for juniors, supporting engagement all year round and following on from the success of the club's COVID lockdown sessions.
Women on the Water: Sessions were relaunched on Friday evenings as the best time for the club's female members.
Practice sailing sessions: Now available Wednesday/Friday/Saturday with safety cover and informal coaching, replacing ad-hoc, poorly communicated activities.
'Regatta Sundays': Introduced on the first Sunday of each month to increase racing participation. Data also highlights growing racing participation on Bank Holiday weekends.
OnBoard: The club provides sessions for children and young people with a pathway for them to develop their skills from rookies to experienced racers.
The profile of the club has also been raised in the local community through high profile events. Olympian John Gimson, who learnt to sail at Rudyard Lake and is still a member, achieved a silver medal at the Tokyo Games with a live 'watch event' in the clubhouse attracting media coverage, And this summer the club hosted the Queen's Baton Relay ahead of the Commonwealth Games in Birmingham. 
More juniors
In 2021 the club was awarded BYS (British Youth Sailing) Recognised Club status, and at the 2022 BYS Midlands Regional Junior Championships received the 'top club' award for the most attendees.
The club's junior training sessions continue to be busy and inclusive and help to attract new members of all ages, as families on shore look to join the club as well.
A successful project in 2022 also offered sailing to all pupils from a local special school for young people with learning difficulties: over several sessions, 100 pupils plus their teachers completed taster sessions and were awarded certificates.
Additionally, the Gateway Group for adults with learning difficulties enjoys an annual sailing evening.
The Galley Café
The club is currently almost 18 months into a 2-3 year pilot project, agreed with landlords the Canal & River Trust, which enables it to host a café open to the public.
Initiated by previous Commodore, Ian Lee, who runs the Galley Café, it has received generally positive feedback from existing members and by opening up the club to new people, has led to a near constant stream of new ones.
By having a 6-day a week café, members benefit from having a club which is warm and open, and current and past members are using it to meet up as well as the public, making the club a hub of activity and a focal point for the local community.
Find out more about how the Galley Café pilot project was launched in Club Room.
Future plans
Recent investment at the club has included a new pontoon, replacement covers for club boats, the purchase of six club paddleboards and new decking for the club house.
Rudyard Lake SC's current development plan was drawn up by a small team, led by the Club Development Officer, after several members attended the RYA's online sessions for clubs.
It was supported by a members' survey highlighting areas for improvement, leading to many of the club's successful initiatives, plus the introduction of a "Commodore's Welcome" including a new "Members Welcome Pack".
Consultation with members will now continue to review activities, update the development plan, and assess whether the Galley Café pilot project should become a permanent feature.
Cast your vote
The annual RYA and Sailing Today with Yachts & Yachting awards recognise the achievements of venues and their volunteers and the dedication that goes into running a successful club. The awards also enable clubs to share best practice.
Rob Peake, group editor of Sailing Today with Yachts & Yachting, added: "The shortlisted clubs were selected by the RYA Awards Panel who judged them on how well they promote the sport, encourage people onto the water and make their activities varied and accessible to their community.
"With voting now open, it's over to the UK's sailing community to determine the overall winner. The winning club gets some great benefits, so make sure you cast your vote on our dedicated voting website and we'll look forward to announcing the winner at the 2023 RYA Dinghy & Watersports Show."
Look out for all the latest news about the awards by following @RoyalYachtingAssociation or visit www.rya.org.uk/cluboftheyear, and remember to register for your ticket to join us for the award celebrations at the RYA Dinghy & Watersports Show.