With the end of 2022 upon us it is a good time to reflect on the last 12 months, a year of highs and lows. Although the year started with continuing Covid restrictions, when the last of these finally eased in March 2022 ahead of the new season, there was a massive level of demand for training and outside activity.
The hottest summer on record was then great for getting out on the water but ultimately resulted in drought conditions and major challenges for some clubs and centres, who had to deliver activity with low water levels and find different ways to maintain engagement.
Overall, however, the annual RYA Club Membership Census revealed that our clubs have weathered the difficult times of recent years in good shape, and we are proud to have the highest club membership in the region since 2016 when the census first began.
Looking into next year, I'm sure we will continue to see a variety of challenges testing our resilience but as always there will be opportunities to exploit to ensure we have a great year afloat.
Affiliated Clubs Conference
It was fantastic to see 92 people at our Affiliated Clubs Conference on Saturday 19 November at the National Memorial Arboretum, including lots of familiar faces but also a number of new ones too, and about half of the region's clubs were represented. We hope you all found it to be a useful and enjoyable day.
I am now looking forward to a number of follow-up meetings with clubs that took the opportunity to reach out to me at the conference. If you would like to talk to a member of the regional team on behalf of your club or centre, please do get in touch.
Regional Training Day
Our next big event is the RYA Midlands Regional Training Day, supported by Gallagher, at Rutland Sailing Club on Saturday 25 March 2023. With an updated format that is open to more people than ever before, and lots of different session to choose from, don't forget to save the date with your team and book your space when booking goes live early in the New Year!
More 2023 diary dates
11-12 February – RYA Sailability Conference, Wyboston Lakes  
04-05 February – RYA Training Conference supported by Gallagher
16-19 February – Boatlife, NEC Birmingham
25-26 February – RYA Dinghy & Watersports Show, Farnborough International
Vote for our Club of the Year finalist
Congratulations to Rudyard Lake SC on becoming our regional finalist for the 2023 RYA Club of the Year title! The club has led the way with diversifying and adapting its activities and been rewarded with record membership levels and a place on the shortlist for the 2023 RYA and Sailing Today with Yachts & Yachting Club of the Year Award, supported by Gallagher.
Discover more about the success factors which have seen Rudyard Lake SC double its membership in our special report and remember to cast your vote to help them bring home the trophy!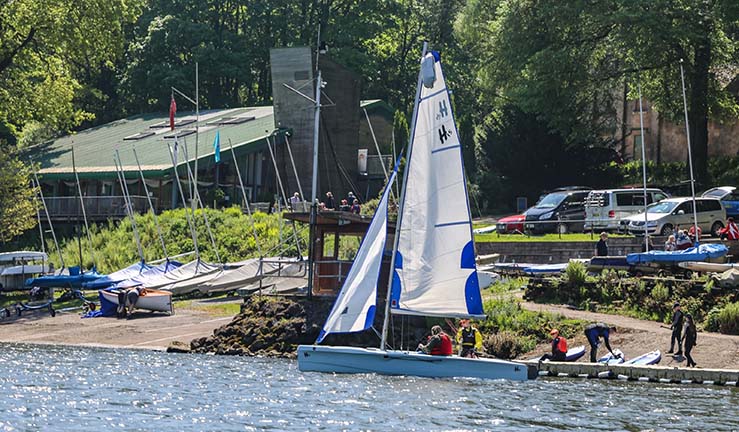 Thank you to our volunteers
It was incredible to see nine dedicated club members from across the region honoured in this year's RYA Volunteer Awards! HRH The Princess Royal presented the awards at a glittering dinner in London and congratulations go to David Partridge (Chelmarsh), Tim Coleshaw (South Staffordshire), Charles Ferrar and Adrian Jones (Notts County), Terry Forbes and Paul Munro (Staunton Harold), Helen Elson (Tamworth), Jonathan Hughes (Draycote Water) and Ian Cowdale (Himley Hall).
If you haven't already done so, I recommend taking the time to read about our RYA Volunteer Award recipients, who have shared their stories and insights into why they find volunteering rewarding. Thank you to each of them for their incredible contribution and to all our hard working volunteers at clubs around the region. Look out for when nominations open for next year's awards as they are a great way to recognise those who go the extra mile at your club.
Sailing through the winter
Although the end of the year is here and the temperatures are freezing, there are a number of winter race series and one-off events across the region at various clubs. Please share the opportunities to keep your members engaged and on the water, either at your club or ones local to you, by joining in with these events.
We try to share as many of these as possible via our social media channels, and if you haven't already done so, I'd recommend following @RYAMidlands on Facebook and/or Twitter to keep up to date with all the latest news in the region.
I hope you have a fantastic Christmas and festive period, and look forward to seeing you on the water in 2023. Merry Christmas and a Happy New Year!
Ben.