The wind may have cancelled the medal race, but a comfortable lead for Anna Burnet & John Gimson meant it was them who scooped gold at this years European Nacra 17 Championship in Villamoura, Portugal.
Last month Gimson and Burnet were among ten sailors announced as part of Team GB's sailing squad for Paris 2024 – and this month they proved exactly why they'd been picked. With a strong start and a race win on day one setting the tone, spectators might not have believed the British pair were fresh off a break from training.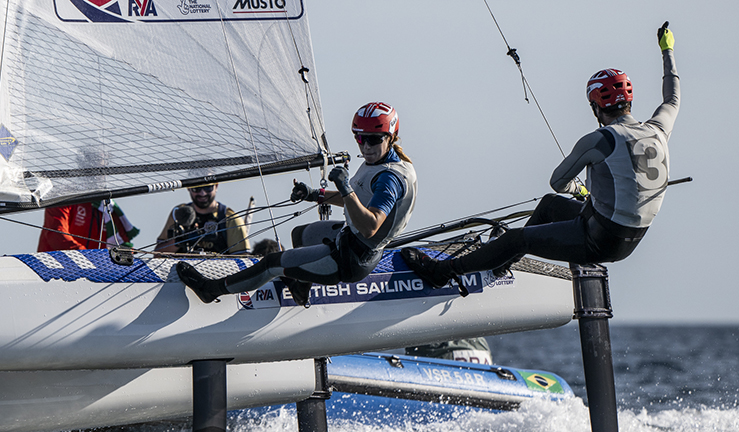 However a knee injury for Scot Anna as well as the fitting out of a new boat, had kept the destined champions off the water since the World Championships in August.
The pair had managed to get some practise in, setting a new world record by sailing between Ballyhome Yacht Club in Northern Ireland to the South West coast of Scotland, slashing the existing record by over ten minutes and highlighting how foiling technology could assist the sustainability of global shipping. 
The western waters may have proven familiar for Anna, who began her sailing journey in junior and youth classes in Scotland. Anna looks set to build on her existing legacy, with her partner John looking towards a gold in Paris 2024, where they'll be representing Team GB.
Burnet, from Rhu, Scotland, said: "It was a bit of an anticlimax not getting any racing on the final day – we would have enjoyed that challenge – but winning the Euros is amazing. We're super happy.
"Where we've got to as a team now means we have the ability to debrief really well and quickly figure out what we need to do to get better. That's something we did well this regatta."
In the meantime, the British Sailing Team athletes will soon be headed back into training, alongside the Italian Nacra 17 teams who proved Gimson and Burnet's closest competition in Portugal, taking second and third place on the podium.
Despite identifying some of their race starts as areas for improvement, it was a strong set of results on Sunday that cemented the victory for the Brits, scooping three first place finishes, and one second. The pair remain confident as they head back into training, having identified their communication as a strength which continues to evolve.
John and Anna will now join back up with their Italian rivals for a solid winter training block ahead of the 2024 season opener in Palma, Mallorca.
"With our training group there's no shortage of competition and intensity," Burnet said.  "We can't shy away from the fact that the Italians are the fastest two teams in foiling conditions, so there's still a lot of speed for us to chase and we'll keep pushing each other across the board in all conditions. It's not hard to find motivation because the end goal for us in Marseille is an obvious one."
Fellow Team GB crews James Peters / Fynn Sterritt and Freya Black / Saskia Tidey were also in action in Portugal but have been struggling to find their rhythm in the unsettled breeze. 
And so, with plenty to celebrate, and plenty to keep building on, Anna and John will be kept busy ahead of their next Nacra 17 event in April, and of course the summer Olympic games in Paris next year. 
Find out more at the Nacra 17 Europeans site.