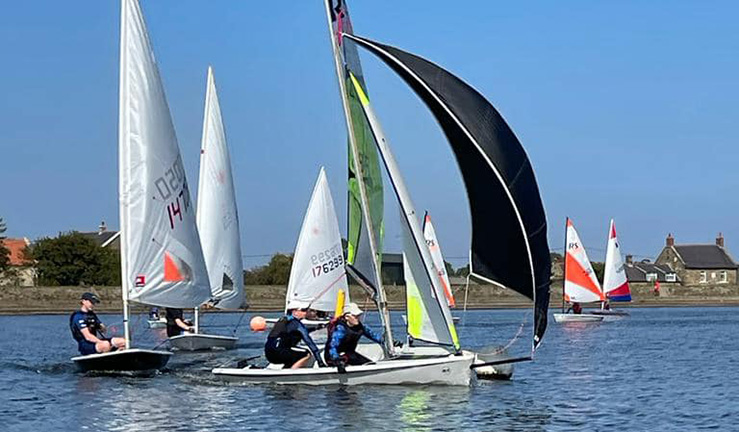 The North East & Yorkshire Youth Traveller Series celebrated its 40th anniversary with more than 120 sailors competing at clubs across the region in 2023.
The NEYYTs series kicked off on the coast at Filey SC in April and concluded inland at Ripon in September, visiting eight clubs in between and attracting 322 separate entries in total.
Providing close racing for experienced competitors and coaching support for the less experienced with regatta fleet racing, NEYYTs gave youth and junior sailors of all ages and levels a chance to develop their skills and included on-the-day, north/south and series prizes.
Series coordinator Fiona Spence said: "As ever it has been about more than just the racing, providing our young sailors with memorable experiences, personal growth and friendship, and opportunities to learn new skills in a supportive and safe environment at venues across the region.
"A massive thank you to all our host clubs and the many volunteers and parents who have supported the series along the way and helped NEYYSA to deliver another fantastic year of youth and junior sailing. We've had a brilliant 40th birthday year and 2024 is looking just as exciting!"
Home and away
The first event of 2023 at Filey SC in April had it all with a late tide, postponement, rain, wind, big waves, surf, capsizes, dis-masting and a bent mast, big reaches with bigger grins, friendship and new faces, fish finger sandwiches, sun and sand!
A much welcome return to Otley SC followed in June, with both this event and the fixture at Scaling Dam SC after the summer holidays proving to be sunny sell-outs.
Champagne sailing conditions at South Shields SC encouraged a few more first sails on the sea with great support from RIB crews and other sailors – and by the fourth event of the series at Derwent Reservoir SC there had been four different event winners!
Adverse conditions saw the event at Teesdale Sailing & Watersports Club cancelled in advance, with the action then resuming at Pennine SC and Ulley SC in July – the halfway point at which stage the top spot was held by Ethan Wild (ILCA 4, Ripon).
The series continued after the summer break at Covenham SC in September, where sailors were treated to the Commodore's Spag Bol and a fly past from a Lancaster bomber – with racing run by series alumni Harry Nickells.
Sunderland YC hosted a two-day event with 55 competitors taking on a challenging weekend of contrasting conditions, before the series concluded at Ripon SC.
Close racing
While some young sailors were inspired try racing at their first-ever open meeting, often the one hosted by their home club, others competed across multiple events for the series prizes.
Winning the 2023 edition overall was Kyla Baxter (Topper, Covenham) just a point ahead of Ollie Hirst (ILCA 6, Scammonden Water) with George Spence (Topper, Ripon) in third overall.
Kyla, who now plans to continue Topper racing in 2024 and become an RYA Dinghy Instructor to help out at her club, said her highlight of the series was the first event at Filey: "It's always great fun to sail on the sea – the waves were challenging to launch in but manageable when actually out in the bay. It took lots of teamwork to get the boats launched and recovered through the breakers but the parents and helpers came through as usual. In the end I won which gave me a strong start to the series. 
"What makes the series special is that the handicapped racing through the range of different boats gives a layer of suspense to the results, so you never quite know until the prize-giving who has won! Also, visiting the smaller sailing clubs is interesting and every venue presents new quirks to the wind. It also encourages less experienced sailors to have a go and join the racing." 
First regatta fleet sailor in 15th overall was Oscar Trenholme (ILCA 6, Ripon) with Toby Eagleton (Topper, Scaling Dam) and Matthew Mccandless (ILCA 6, Otley) in second and third respectively.
Top three juniors were all RS Tera sailors with Molly Wilson and Harry Wilson (Filey) claiming first and second and Zach Williamson (Ripon) in third, with all three of them in the top 10 overall.
Full list of results and prizewinners.
Special guests
The finale and prizegiving at Ripon SC had 49 boats with 58 sailors for a day of racing and fun in light shifting winds. Participants included three doublehanders with adult helms taking out around 10 young pre-sailors and aspiring racers to inspire the next generation.
There was also a 40th anniversary party complete with a fish and chip supper and celebration cake, with NEYYTs alumni – former sailors, parents and organisers of the series – among those invited to join the occasion.
Guests included the Gebhard family of Trident UK, series organisers David Rowlands and David Staniforth of Ulley SC, and Roy and Cynthia Goodison, parents of Olympic gold medallist, International Moth world champion and America's Cup helm Paul Goodison.
Paul's earliest experiences of racing were with the traveller series in Yorkshire and the Goodisons, also of Ulley SC, kindly brought along his medals.
Fiona said: "The children really enjoyed holding and wearing Paul's medals and it was great for them to imagine where their own sailing might one day take them."
As Ulley SC summed up in the club's comment on Facebook following the conclusion of the 2023 series: "Some great events and lovely, friendly, supportive clubs. Thanks to all."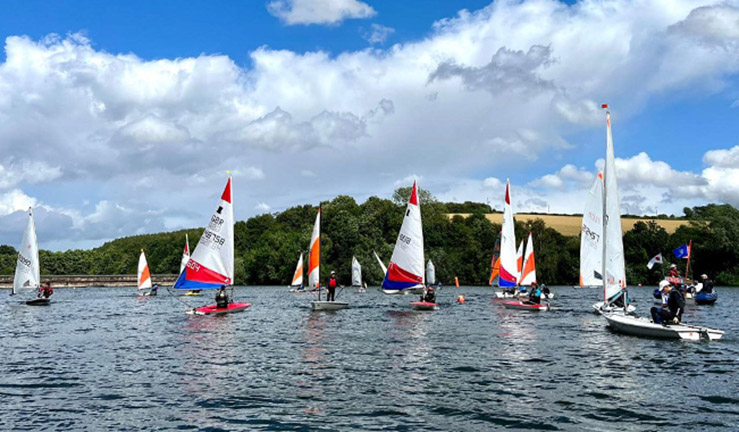 Inclusive for all
Paul Adams, RYA North East Sailing Development Officer, visited the events at Ulley and Scaling Dam and said: "It's great to have these extra events for young sailors to experience different venues and conditions, including coastal for the inland sailors and vice versa.
"The events have a good family vibe and they're for all abilities, so you don't have to be an amazing racer already to be able to take part which makes it really inclusive.
"It was great to see so many young sailors enjoying getting on the water. It's a much valued series for the region which we're looking forward to supporting again next year."
Looking ahead to 2024
Planning is now well underway for next year, with the 41st edition of the series scheduled to start on 20 April 2024 at West Riding SC.
NEYYTs is again looking to visit around 12 venues and hopes to share a couple of joint events with the North West Y&J Traveller Series to give young sailors from either side of the Pennines additional opportunities to vary their racing experience at different venues.
The series will also be heading east with a visit to Hornsea SC for the first time, with other venues and dates expected to be confirmed soon for the 2024 series.
In the meantime, following the success of the inaugural North East & Yorkshire Youth Sailing team racing event in February, there are plans for a second edition in the New Year for 12 teams racing RS Fevas at Ripon SC, 13-14 January 2024.
Find out more about North East & Yorkshire Youth Sailing at: www.yhysa.org.