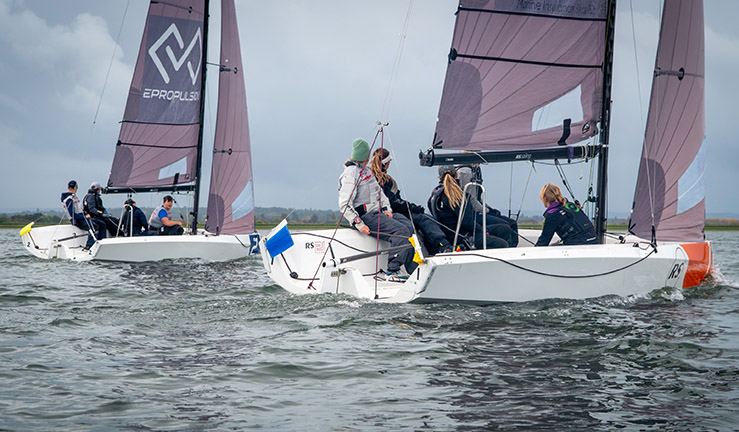 The RYA National Match Racing Grand Finals 2023 saw 11 teams battling it out in RS21 keelboats over a weekend of variable conditions at London's Queen Mary Sailing Club.
Competition was close with teams qualifying for the invitational event (27-29 October) following results in the RYA Match Racing Series or gaining selection with a wild card.
Racing in everything from 5 knots and sunshine to squally gusts into the high teens under rain showers – including lots of rain on the Sunday! – resilience, teamwork and tactical awareness were essential for navigating the shifty conditions at Queen Mary reservoir to gain the advantage.
The results at the end of the initial round robin saw Ted Blowers and his Team Absolute topping the leaderboard with nine wins from their 10 races closely followed by Patrick Croghan with 7 wins.
Giving an indication of the quality of the fleet, the next five teams from 3rd to 7th inclusive all had a 60% win rate. Each counting six race wins from their 10 matches thus far were Jenny Cropley, Ben Tylecote, Alex Colquitt, James Morson and match racing returnee Christian Hamilton.
Finals series
The quarter finals saw a 2-0 win for Hamilton over Tylecote; Cropley winning 2-0 from Colquitt; Croghan taking 2-0 from Morson; and Blowers scoring 2-1 from Oli Hale.
With good progress through the round robin and quarter finals, the last day was dedicated to the semis and finals. Blowers dispatched Hamilton 2-1 in their semi with Croghan seeing off Cropley 2-0.  
Hamilton in the petit final then secured third overall with 2-0 over Cropley.
Blowers' Team Absolute – with Will Birch-Tomlinson, Robby Boyd, Amy Sparks – were then victorious with a 3-0 scoreline in the final against Croghan, Alice Bradford, Toby Atherton and Dominic Lewis.

Competitive
Winning skipper Ted Blowers said: "Overall it's been an amazing event. The standard as usual was super high and competitive with people from all kinds of different backgrounds and experience, including some of the better sailors but with less match racing experience who are coming in and giving it a really good go.­­­­­­
"With the shifty conditions all weekend we found that pressure is king, so finding those gusts, those spots, sometimes over-ruled the shifts, but then again you've got to be aware that those shifts obviously do play a vital part in staying in front."
Ask for any tips for aspiring match racers, Ted added: "Just get out there and give it a go, obviously a lot of people are apprehensive about doing it in the sense that it's win or lose but you have to just try and see how it goes, and as you do more and more, it just starts to click and you progress from there."
Jenny Cropley, who secured fourth overall at her third-ever match racing event, and first-ever finals having qualified in the penultimate series round at Queen Mary SC, said: "It's been a steep learning curve getting to know the RS21s and getting back into match racing. We had an all-female team including two sets of sisters so it's been really fun to do it with family, it's been good!"
Find out more about RYA Match Racing and all upcoming events – including the start of the RYA Winter Match Racing Series in January 2024 – at www.ryamatchracing.co.uk
Pictures: Freddie Cardew-Smith