Whitefriars Sailing Club in the Cotswold Water Park has been announced as the south-west regional finalist in the 2023 RYA and Sailing Today with Yachts & Yachting Club of the Year Award, supported by Gallagher. Up against eleven other sailing clubs from all RYA regions, WSC is now relying on the nationwide public vote, which opens today, 1 December 2022, to get the coveted overall winner award.
"The shortlisted clubs were selected by the RYA Awards Panel who judged them on how well they promote the sport, encourage people onto the water and make their activities varied and accessible to their community," said Cat Ferguson, RYA Club and Volunteer Support Officer.
Whitefriars Sailing Club has 700 members and offers a diverse range of on and off-the-water activities, including racing, cruising, an extensive RYA training programme and social activities for all the family.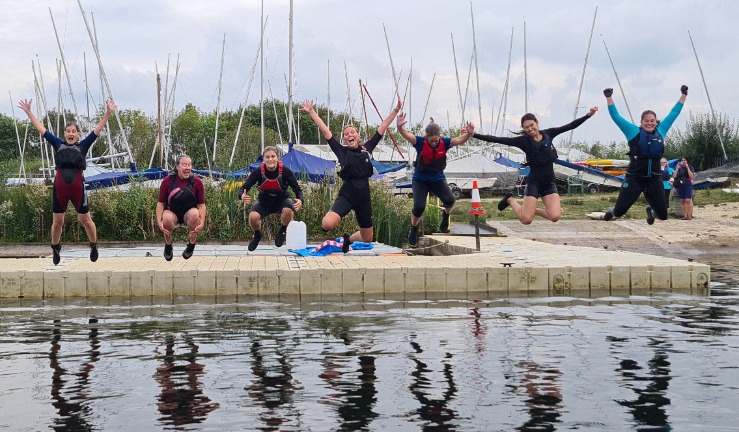 It is known widely as 'the friendly club' and outgoing Commodore Dave Buffham explains why: "We focus carefully on the 'membership experience' from the moment someone enquires about the club and we treat all enquirers as customers, going out of our way to understand their needs," he says. "We know that speed of response is critical and we have created multiple approaches to help members maximise their membership usage, reinforcing the pathways that they can take and recognising that everyone's needs are different. And we also work on the basis that pride and passion in our club and our sport need nurturing, and then become infectious!"
Barry Hargreaves, the new Commodore of Whitefriars said: "It is a real honour for our club to be representing the whole of the south-west. It's a testament to our beautiful lake, our inspirational dinghy instructors and family-friendly approach, topped off by a well-maintained fleet of club boats". 
Dave Buffham is happy to support people from any south-west clubs who would like to hear more about the Whitefriars philosophy and approach to membership growth and how it might help them. You can contact him on 07525 678947 or dave.buffham@hotmail.co.uk. He will be involved in an online Club Development webinar on 9 December from 7.30 – 8.30pm: How can you make your club welcoming to a wider range of members?  
So don't forget to attend the webinar, and vote for Whitefriars Sailing Club to make the south-west the winning region for the third time in the past four years!
It is up to you to decide the winner – vote now.
Information about RYA and Sailing Today with Yachts & Yachting Club of the Year Award, supported by Gallagher